When most people think of birds, they imagine little creatures soaring high in the sky or perched atop a tree. What many don't know is that some birds are actually quite adept at walking down a tree.
In this article, we will take a look at 9 birds that can walk down a tree, complete with identification tips and photos. So next time you're out birdwatching, keep an eye out for these special feathered friends!
Birds That Can Walk Down A Tree
Red-breasted Nuthatch
The Red-breasted Nuthatch is a common woodland bird in North America. It has the unique ability to walk down trees head first and then turn around, so it can climb back up.  They have been known to do this in order to get food, such as insects, or because they are startled by something on the ground. This skill gives them an advantage over other birds that cannot move up and down vertical surfaces.
White-breasted Nuthatch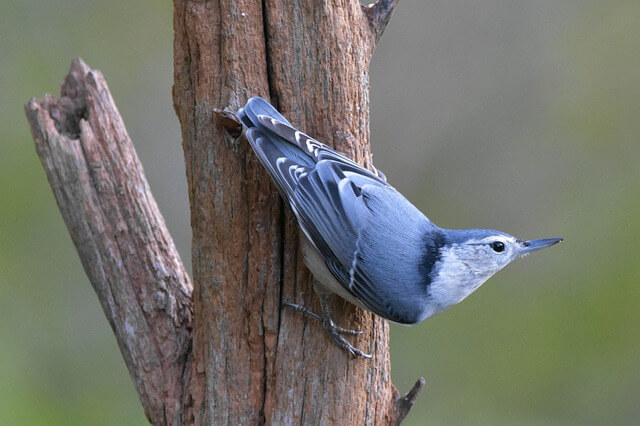 Does the White-breasted Nuthatch walk down trees? Yes, they do. They are known to climb up and down trees with agility that is unequaled by any other bird in North America. These birds have an interesting behavior of pecking at insects living in the bark and sapwood of trees. The nuthatches use their strong bills to drill into the tree bark or sapwood where many species of insects reside.
Related: How to Attract Nuthatches to your yard
Pygmy Nuthatch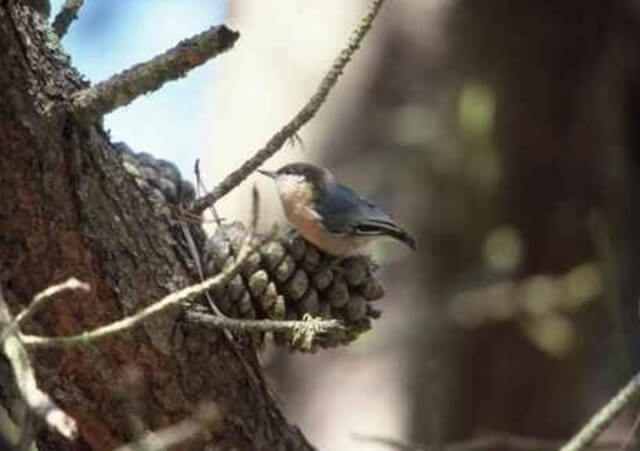 The Pygmy Nuthatch is a very small bird common in British Columbia, Northwest US, Western U.S., and Central Mexico. These birds have the most unusual behaviors among birds. When they are in danger, or if they need to move from one tree to another, they will walk down trees head first. They also do this for nesting and other activities such as bathing.  The nuthatches are often seen climbing up and down the tree trunks, looking for insects to eat. They have long legs with sharp claws, so they can hold on to the bark of the tree.
Brown-headed Nuthatch
Brown-headed Nuthatches are a very small type of bird that is often found in North America. These birds typically live around coniferous trees, and they spend most of their time climbing up the tree trunks to get food, or down the tree trunk when frightened. Brown-headed Nuthatches have many adaptations for climbing trees. Their toes are long and curved, so they can grip onto the bark easily, and their feet have stiff bristles on them which helps them with traction.
American Treecreeper
The American Treecreeper is a small, drab-colored bird that lives in the forests of North America. Unlike most birds, this species can climb down trees head first and can be found at all levels of tree trunks. The American Treecreeper has an interesting behavior when it comes to climbing down trees: they will often go up one side of the trunk and then down the other! This odd habit may help them keep track of where they are.
Eurasian Treecreeper
Length: 5.0 in (12.7 cm)
Weight: 0.25–0.46 oz (7-9 g)
Wingspan: 7.0-8.0 in (17-21 cm)
Map: Range Map
Sounds: Calls and Songs
The Eurasian Treecreeper is a bird that lives in the North of Europe and Asia. It has an unusual way of getting around by walking down trees. This makes it easier for them to get food from high up in the tree canopy.  They are usually seen near water and in woodlands where they feed on insects, spiders, larvae, snails and slugs from leaves or bark.
Downy Woodpecker
Downy Woodpeckers are small woodpeckers that live in North America, Central America, the Caribbean, Europe, Africa and Asia. Downy Woodpeckers are able to climb up and down trees with ease. They have strong claws that allow them to grip the bark of the tree, but they also have their beaks for additional support. The Downy Woodpecker's can pick up insects from the bark or other parts of a tree.  They do this by using their barbed tongues to get insects out of crevices in the bark.
Related: How to Attract Downy Woodpeckers to your yard
Hairy Woodpecker
The Hairy Woodpeckers, which are found in North America and Eurasia, have very long claws that help them cling to the bark of trees as they forage for food. They usually travel on the tree trunk from branch to branch, but will descend a tree head first by walking down it with their feet against the trunk and their beak pointed upwards towards where they want to go. 
Great-spotted Woodpecker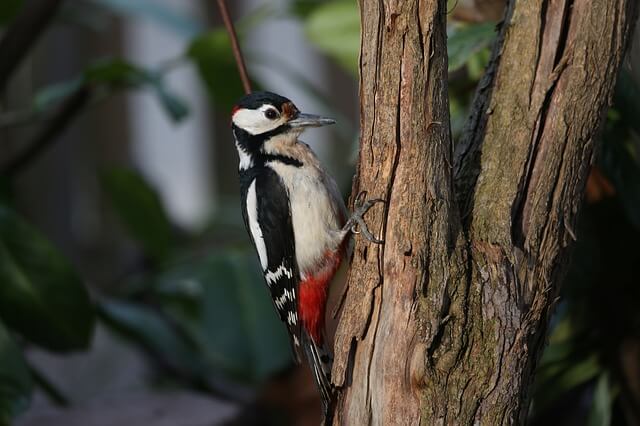 Length: 7.9–9.4 in (20.1-23.9 cm)
Weight: 2.5–3.5 oz (70-98 g)
Wingspan: 13–15 in (34-39 cm)
Map: Range Map
Sounds: Calls and Songs
The Great-spotted Woodpecker is a type of woodpecker that can walk down a tree head first. It does this by holding onto the bark with its claws and sliding down, using the claw on its right foot to push off from branches as it goes. They are able to do this because they have two toes at the back of their feet, rather than just one. This helps them get around in trees more easily than other types of woodpeckers.