Bluebirds, with their striking blue plumage and sweet melodies, are a common sight in gardens and backyards throughout North America.
As cavity-nesters, bluebirds depend on natural or artificial cavities for nesting and roosting, but with habitat loss and increased competition for nesting sites, providing suitable housing has become crucial.
The best birdhouses for bluebirds are designed with the birds' specific needs in mind, making them effective at attracting and supporting bluebird populations in your yard.
Choosing the Right Birdhouse for Bluebirds
Bluebird's Specific Needs
Bluebirds prefer birdhouses with an entrance hole size of 1.5 inches in diameter, with the birdhouse itself placed in an open area. They also like the birdhouse to be placed 5 to 10 feet off the ground on a post or pole.
Best Birdhouse Types for Bluebirds
The best birdhouses for bluebirds are those that mimic natural cavities, with a simple design and no perch. They should also have proper ventilation and drainage to prevent mold and disease.
Considerations for Bluebird Birdhouse Selection
When choosing a birdhouse for bluebirds, consider the materials, location, and style. Wooden birdhouses are a popular choice, but they can also be made of PVC or recycled plastic.
The location should be away from predators and direct sunlight, and the style should be simple and unadorned. By considering these factors, you can choose the best birdhouse for bluebirds in your yard.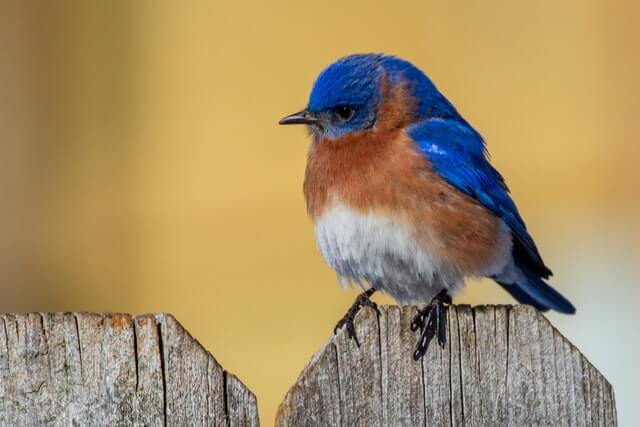 Best Birdhouses for Bluebirds
My Top Pick #1

– JC's Wildlife Ultimate Bluebird House.
If you are looking for a quality, hand-made bluebird house that will not fade, split, or crack, and will look great for years to come, then JCs Wildlife Ultimate Bluebird House is the right choice.
This 100% recycled Poly Lumber product has drainage holes on the bottom and looks like natural wood with a stain finish. JCs Wildlife Ultimate Bluebird House comes with hardware, so it can be hung from a tree branch or pole to give your feathered friends some space.
#2 – The Panacea Woodlink Classic Bluebird House DIY Craft KIt is Perfect for Kids.
The Panacea Woodlink Classic Bluebird House DIY Craft Kit is a very high-quality kit that contains precut wood panels, along with hardware and instructions, for building a bluebird house easily. This kit is perfect for kids to assemble together as a family project.
This fun DIY craft kit can be used by both children and adults alike to create beautiful backyard birdhouses in just minutes! It comes with everything you need: easy-to-follow illustrated instructions.
#3 – Cedarnest 4 Bluebird House: Built to Last.
This set of four Cedarnest Bluebird Houses are hand-made in the USA from 1/2″ Western Red Cedar. The house has a cedar shake roof and is weather resistant and decay and insect resistant. Cedarnest 4 Bluebird House:
Built to Last In the backyard, we all have one thing in common: We want our bird houses to last! Cedarnest 4 Bluebird House will give you years of enjoyment with its rustic style that combines function with beauty.
#4 – WHITEHORSE Premium Cedar Bird House. Birds Will Thank You.
The Whitehorse Premium Cedar Bird House is everything you've been looking for. It's made from 3/4″ thick western cedar wood, it's weatherproof and will keep out rain, the double roof reduces overheating.
This bird house is easy to install and comes with all the hardware you need to mount it on a post or other support. The best part? Birds will thank you! The Whitehorse Premium Cedar Bird House is everything you've been looking for. 
#5 – Copper Spade Cedar Bluebird House is made with the best quality materials.
Copper Spade Cedar Bluebird House is made with the best quality materials. NORTH AMERICAN RED CEDAR WOOD: Made with rot resistant North American cedar, The 1.5″ diameter hole, EASY ACCESS FOR CLEANING: no perch roof.
This house will need to be placed in an area that provides shelter from wind and rain. If you have limited space available on your property, consider purchasing a Copper Spade Cedar.
#6 –  Kimdio Hanging Birdhouses Help Create A Bird-Friendly Space.
Kimdio is a birdhouse company that has been making decorative hanging birdhouses for years. The Kimdio Hanging Birdhouses are designed to make your outdoor space more friendly and welcoming to birds.
Hanging from trees, porches, fences or other structures around the home, these ceramic creations can be handcrafted with attention to detail and design. These decorative hangings are easy to install and clean, so you don't have to worry about maintenance.
#7 – Nature's Way Bird Products Offers the Ultimate Home for Your Bluebirds.
Nature's Way Bird Products offers the ultimate home for your bluebirds. Our Cedar and stainless steel bird house is naturally insect and rot resistant, has air ventilation through wall and floor openings, and comes with premium rust-free hardware.
We're confident that our products will provide a safe place for you to enjoy watching these birds in their natural habitat. Nature's Way Bird Products offers the ultimate home for your bluebirds.
#8 – The Woodlink Wooden Bluebird House is Built for a Long Stay.
The Woodlink Wooden Bluebird House is designed for bluebirds, and constructed with Re-Forested Cedar Wood. It has a durable construction that will last through the harshest of weather conditions. The ventilation holes are an important aspect to keep in mind when deciding on your bird house because they allow air flow and prevent any build up of moisture inside the home.
The drain hole ensures proper drainage so you don't have to worry about standing water ruining your structure.  This bluebird house is a perfect way to add nature and beauty to your backyard.
#9 – Woodsmith Bluebird House Is Your Smart Choice.
Do you love birds? Is it your goal to attract a variety of species of small wild birds into your backyard? If so, then the Woodsmith Bluebird House is the right choice for you.
This beautiful bluebird house has mounting hardware that's sturdy and weatherproof. It also includes easy installation instructions for anyone who might not be handy with tools.
Need Some Help? Check out these Articles:
Frequently Asked Questions
What is the best direction to face a bluebird house?
There are many factors that go into the best direction for a bluebird house, including sun exposure, winter temperatures, and prevailing winds. For example, you want to avoid placing your birdhouse too close to an east-facing window because it could get very hot during the summer months. South is the best direction to face a bluebird house. If you have limited space, then it's okay to use an alternate location of southeast.
What kind of bird houses do Eastern bluebirds like?
Eastern Bluebirds prefer a simple house that is made out of natural materials such as pine or red cedar.  These birds enjoy nesting in boxes that have no perches on the outside, and to keep them safe from predators, the entrance hole should have a diameter of 1.5 inches.
What color should a bluebird house be?
In order to attract bluebirds, a bluebird house needs to be the same color as the natural surroundings. This is so that they can feel comfortable and not stress out from being in an unfamiliar place. In fact, if you want them to actually use your birdhouse for nesting purposes, it's important that you have a bit of camouflage going on.
Can I mount a bluebird house on a tree?
Mounting a bluebird house on the trunk of a tree is never advised. Instead, mounting your bluebird house on a pole that is at least 6 feet, will provide protection from predators while still giving access to food sources.
Where should I put a birdhouse in my yard?
Bluebird houses are often sold with no guidance on how close to place them. Bluebirds can be territorial, so if you're not sure where to put your house, it's best to install the new one within 50 to 100 feet of any existing ones for the most success.
Conclusion
In conclusion, when it comes to choosing the best birdhouse for bluebirds, there are several options to consider. The top birdhouses for bluebirds that we have reviewed offer a range of features to suit different needs and preferences.
Whether you are looking for a traditional wooden design or a more modern material, there is a birdhouse on our list that will fit the bill.
Ultimately, the key is to understand the specific needs and nesting habits of bluebirds, and to choose a birdhouse that will provide them with a safe and comfortable environment to thrive in.
We hope that our recommendations and considerations have been helpful in guiding your decision, and we encourage you to do further research and consult with experts if needed.
With the right birdhouse, you can create a welcoming space for bluebirds to call home and enjoy their beautiful presence in your garden or backyard.
Related Post: