The Common Crane is a large bird of the Gruiformes order. They are native to Europe, Asia, Africa, and Siberia. In this article, we will explore 60 interesting facts about common cranes with photos, ID info, and more! ​​​​​​​
Overview
Identification: The Common Crane is about 3.3 – 4.3 long and weighs 6.6 to 13 pounds. Their wingspan can reach over 7 feet wide. They have a gray plumage with a black-and-white head pattern, red crown patch, and tousle of tail feathers. They have very long necks and legs with long yellow bills and black legs and feet. 
Length: 3.3 – 4.3 feet (39–51 in).
Weight: 6.6 – 13.0 lbs. (105.6-208 oz.).
Wingspan: 5.8 – 7.9 feet (70–95″ in).
Scientific Name: Grus grus
Range: They are most commonly found in Eastern Europe and Asia, but they can also be found in Western Europe, Africa and North America. The largest populations are found in China, Mongolia and Siberia with smaller numbers elsewhere. 
Migration: They are migratory birds that travel to India, Southeast Asia, the Tibetan Plateau and parts of North Africa for wintering. 
Habitat: The majority of their population lives in Central Asia where they reside year-round near rivers, bogs, grassy fields, lakes, marshes and other wetlands for breeding purposes.
Diet: They eat seeds, roots, aquatic plants,  insects, amphibians, crabs, snails, earthworms, millipedes spiders, woodlice, rodents, and small birds.
Global extent of occurrence:  <20,000 km2  (7722.0432 sq mi).
Global Population: est. 490,000-505,000 individuals.
European Population: est. 225,000-370,000 individuals.
Conservation Status: Listed as Least Concern (Population Increasing).
Lifespan: In the Wild: 20 years of age. – In Captivity: 43 years of age.
Breeding Period: April to June.
Incubation Duration: 28 to 31 days.
Chicks Fledge: 65-70 days.
Number of Broods: 1 brood per year.
Egg Color: Light brown or yellowish-green eggs with rust-colored spots.
Nesting Habits: Both sexes help build the nest, which is a mound of vegetation, usually on the ground or near a body of water. It builds its nests out of reeds, and grasses which it collects. They have also been known to reuse old nest sites. Both sexes will incubate the eggs, that will hatch after 28 to 32 days. The chicks have cinnamon brown plumage, that will turn gray as they mature. Chicks will fledge at approximately 60 to 70 days. Chicks will reach their full maturity in four to six years.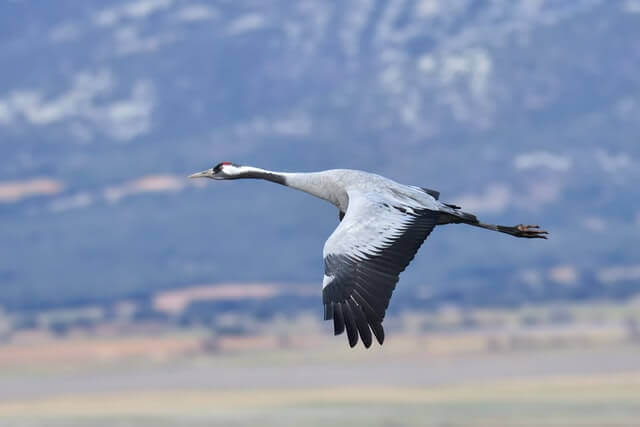 Interesting Facts About Common Cranes
Adult cranes undergo a complete molt every couple of years, just before migration, which leaves them unable to fly for up to six weeks, until the new feathers grow in.
The Common Crane is also known as the Eurasian Crane.
Cranes have been recorded flying up to 13,000 miles per year.
The average life span of a Common Crane is 20 years in the wild and 43 years in captivity.
Common Cranes are monogamous and mate for life. They form long-term pair bonds that can last a lifetime. They have many partners are available within their social group, if their partner dies, they will find another one within their own social group or one nearby.
Furthermore, they also build large nests out of twigs and leaves for their eggs. 
Cranes are extremely social animals, meaning they flock in large groups. 
One of the most interesting facts about cranes is that they are very graceful when they walk. 
Cranes have long legs, so they can wade through water.
Cranes do not perch in trees, because they lack a long back toe to help them hang on branches.
The Common Crane can reach a horizontal flight speed of between 25-35 mph.
A common crane's wingspan can be up to 8 feet wide. 
Common crane is the second-highest flying bird in the world. They are known to fly across the Himalaya mountains at an altitude of up to 33000 meters.
The common crane can run up to 20 miles per hour. 
Cranes are very territorial birds, often fighting with other cranes over the territory of a mate or nesting area.
They migrate in the winter from northeast Asia to India and back in the spring.
Their range, historically inhabiting wetlands throughout Europe via northern Africa, has shrunk so much so that they are now considered an endangered species across most of their range.
They feed mostly on insects and other invertebrates – beetles, dragonflies etc. They will also eat plant material.
Their wing feathers are not only used for flight, but rather to attract the opposite sex. 
Cranes do build their own nests; but they sometimes reuse abandoned nests of other large birds like swans or geese.
Cranes make various noises, that can be heard over 2 miles away. The sounds can be described as moans, hisses, and honks. 
The female lays 1 – 4 eggs that take about 28 days to hatch.
The chicks fledge after 60-70 days of hatching, but they will still be fed by their parents until they are independent. 
Pair bonds last the whole year, with the only time the pair separates being during migration or when the female is incubating eggs or brooding chicks. 
Cranes do not have webbed feet, but they are able to swim.
Most cranes are located in Eastern Russia, Siberia and Mongolia; however, they can also be seen migrating through parts of North America during autumn.
Common Cranes live in wet or dry grasslands, marshes, or wetlands.
They maintain some of the largest migrations across the world. They fly thousands of miles from Northern Canada to Siberia during their breeding season between May and July.
In one day, cranes may fly up to 250 miles nonstop.
Eurasian Cranes have been known to migrate at night in order to avoid predators.
Related Post: